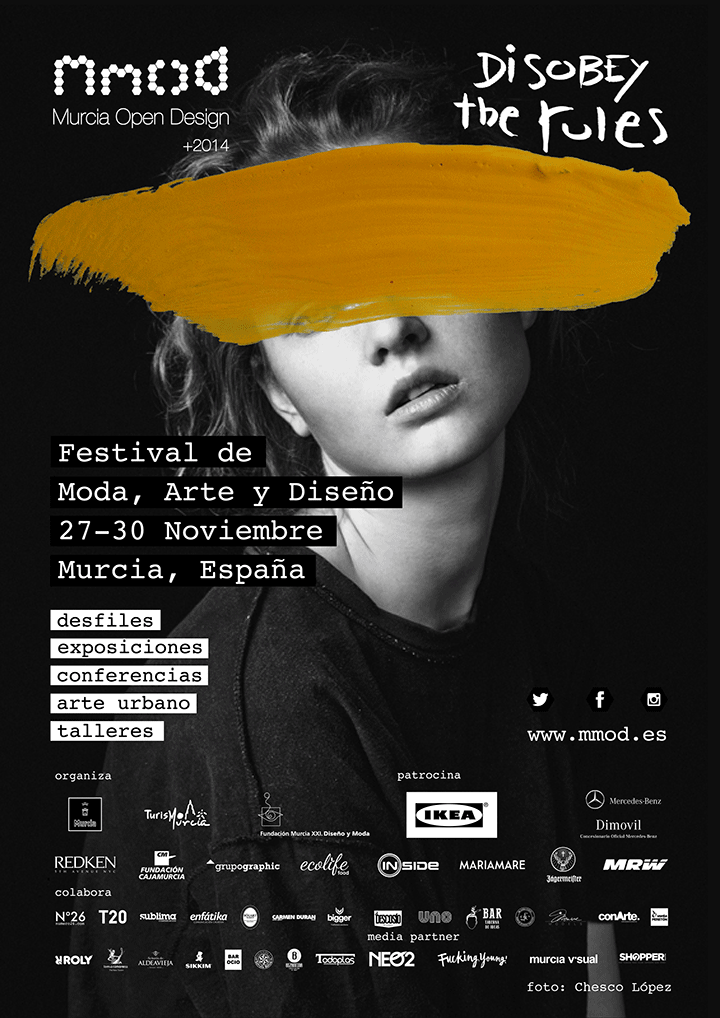 MMOD MURCIA OPEN DESIGN IS A FASHION, ART AND DESIGN FESTIVAL HELD EVERY YEAR IN MURCIA AIMING FOR THE PROMOTION OF THE CREATIVE INDUSTRY AND THE CAPITAL AS AN OPEN CITY FOR THE NATIONAL AND INTERNATIONAL VANGUARD.

THE 2014 FESTIVAL WILL BE HELD IN MURCIA BETWEEN FROM NOVEMBER 27TH TO 30RD.
Organized by the Murcia XXI Foundation of fashion and design, the Sports Council, and the Youth and Tourism of Murcia City Council, the festival is the only one of its kind and a national model for careful cultural offering that, year after year, turns Murcia into an industry epicenter for professionals, creators, the public and the press specializing in fashion, design, and art.
In its third edition, MMOD Murcia Open Design continues its commitment to combining different disciplines y creative communities, aiming to promote the industry, and serving as a platform for emerging creators to present their work alongside professionals like Agatha Ruiz de la Prada, Juan Vidal, GorkaPostigo, and Ana Locking.
The 2014 festival activities are divided into six sections: conferences, runway, exhibitions, contests, street art, and workshops with the aim of exploring diversity and authenticity as a model of success in the creative industry under the slogan "Disobey the rules" in Murcia between November 27th and 30th.
'MMOD Murcia Open Design is an example that should happen much more in order to see the designers' work and lectures. I find it fascinating and it should continue. David Delfin, Fashion Designer.'

David Delfin, Designer

'It's really interesting for a city like Murcia to be able to host this type of event.'

Albert Folch, Director of Art

'The festival is a good opportunity to combine art and fashion to see different design options.'

Paula del Vas, Designer

'It's beautiful how MMOD Murcia Open Design is organized. It's such a good initiative.'

Leandro Cano, Designer

'Fashion, contemporary art, and street art complement each other very well at the festival and together they are better able to be presented to the public.'

Fod, Artist